At a Glance
Uppers
"The people, level of substantive work, and a healthy outlook on work-life balance."
"Our specialists (tax, employee benefits, IP, international trade, etc.) are really strong and make life easier as an associate."
Downers
"Stress of high-level work. At times, associates with good reputations can be overwhelmed with work."
"Transparency related to performance evaluation/progression could be better."
About Dechert
Since its founding in 1875, Dechert has become a force in the global legal market. In the United States, the firm is known for its work in antitrust, international arbitration, financial services, life sciences, strategic transactions and private equity, litigation, white collar, product liability, real estate, and securities.
Business Savvy
The firm's long history includes founders who served as U.S. ambassadors and law professors, historic clients like The Pennsylvania Railroad, and mergers influenced by world wars. In the late 1990s, Dechert began reshaping its business model to become more specialized. The firm began focusing on private equity, intellectual property, and white-collar criminal defense. The firm also underwent significant expansion overseas beginning in the late '90s and through the early 21st century, adding offices everywhere from France and China to Dubai and Singapore.
A Range of Expertise
With offices around the globe, Dechert handles cross-border work, has a bustling corporate practice, and is known for its litigation savvy. The firm advises across multiple industries, including banking and financial institutions, energy, financial services, fintech, healthcare, insurance, life sciences, private equity, real estate, and more. 
Dechert has one of the world's premier financial services practices. The firm represents all 10 of the top 10 global asset managers, drawing on both its far-reaching domestic and international presence and its practice leaders, who are considered some of the biggest players in the market.
Its litigation team has more than 350 attorneys with deep experience in a wide range of areas, including complex commercial litigation, ranging from product liability to appellate litigation to private equity industry litigation. Meanwhile, its highly regarded real estate lawyers approach their matters from a cross-practice standpoint, bringing in knowledge of construction, environmental, regulatory compliance, litigation, and tax to address client needs.
A Supportive Culture
Dechert has found a unique way of rewarding mentoring and teaching within the ranks through its "Exceptional Teacher Awards" program. All attorneys, business professionals, and practice groups are invited to nominate the most proactive individuals who have made exceptional efforts to train and develop the firms' people. Nominations are reviewed by a formal committee of partners and associates, and recipients are awarded $10,000 plus a commemorative plaque. The firm offers similar awards for Diversity Champions and Innovators.
Support comes in many forms, and another way that the firm stands by its lawyers is through wellness initiatives. THRIVE@Dechert is a work-life and wellness program that offers resources for healthy living, including Meditation Mondays—30 minutes of guided meditation led by a certified meditation teacher—and Mental Health Advocates, who are employees trained to both recognize and support colleagues struggling with mental health issues.
News & Awards
NOTABLE CASES
Dechert advised GIC on seven deals totaling $70 billion, including the $17 billion acquisition (and related financing) of athenahealth, the second-largest PE buyout in 2022.
Dechert has served as lead counsel to Pfizer in successfully defending claims alleging that Lipitor, a best-selling statin, caused plaintiffs to develop diabetes.
Dechert has an established relationship with Freddie Mac, handling billions of dollars' worth of real estate collateral for the U.S. government. Dechert lawyers have managed 400+ securitizations totaling approximately $400 billion since 2009.
Dechert continued its decades-long commitment to protecting voting rights, including handling challenges to discriminatory redistricting maps in Arkansas, Georgia, and Texas; leading urgent cases on the eve of midterm elections to protect absentee ballots and Spanish-language ballot access; staffing the nationwide Election Protection Hotline, and filing amicus briefs in two Supreme Court cases: Moore v. Harper and Milligan v. Merrill.
AWARDS & ACCOLADES
#2 law firm for international pro bono work, 2022—The American Lawyer
Dealmaker of the Year, 2022—The American Lawyer
ESG and Community Impact Leader, 2022—National Law Journal 
Fortune Best Workplaces in Consulting & Professional Services™, 2020-2022—Great Place To Work
Diversity Leader, 2023—Profiles in Diversity Journal
Why Work Here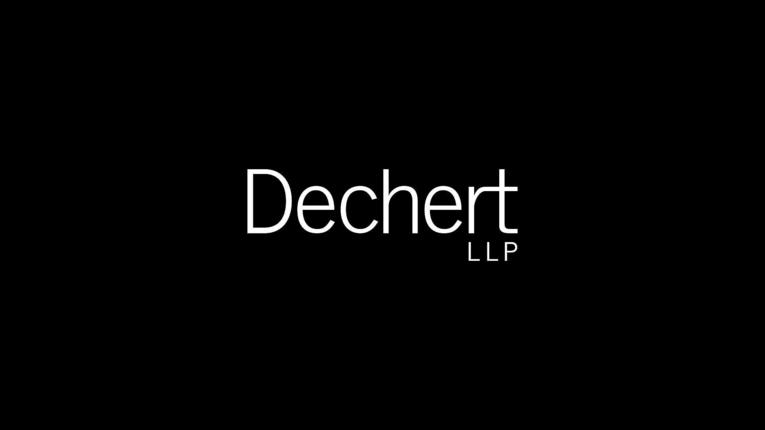 Dechert
3 Bryant Park
1095 Avenue of the Americas
New York, NY 10036
Phone: (212) 698-3500

Firm Stats
Chairman: Andrew Levander
CEO: Henry N. Nassau
Hiring Leadership: Hiring Committee Chair: James A. Lebovitz; Hiring Partners: Jeffrey B. Plies (Austin); Stephanie A. Capistron, Samuel H. Gilbert (Boston); Stewart McQueen (Charlotte); Andrew S. Boutros, Angela M. Liu (Chicago); Mara Cusker-Gonzalez, Nazim Zilkha (New York); Eric S. Siegel, Allie Misner Wasserman (Philadelphia); Mark D. Perlow (San Francisco); S. Michael Song (Silicon Valley); William J. Bielefeld, Darshak Dholakia, Philip T. Hinkle (Washington, DC)
Total No. Attorneys (2023):
500 - 750
No. of Partners Named 2022:
48
Billable-Hour Requirement:
1,950

Base Salary
1st year: $ 215,000
2nd year: $ 225,000
3rd year: $ 250,000
4th year: $ 295,000
5th year: $ 345,000
6th year: $ 370,000
7th year: $ 400,000
8th year +: $ 415,000
Summer Associate: $ 4,134.62 /week

Employment Contact
Patricia Moroney
Global Director, Legal Recruiting
(212) 641-5660
legalrecruiting@dechert.com

No. of International Offices: 11
Major Office Locations
Austin, TX
Boston, MA
Charlotte, NC
Chicago, IL
Los Angeles, CA
New York, NY
Philadelphia, PA
San Francisco, CA
Silicon Valley, CA
Washington, DC I
Beijing
Brussels
Dubai
Dublin
Frankfurt
Hong Kong
London
Luxembourg
Munich
Paris
Singapore

Major Departments
Antitrust/Competition
Corporate and Private Equity
Employee Benefits & Executive Compensation
Financial Restructuring
Financial Services & Investment Management
Global Finance
Intellectual Property
International Arbitration
International Trade & Government Regulation
Life Sciences
Litigation
Privacy & Cybersecurity
Private Client
Pro Bono
Product Liability & Mass Torts
Tax
White Collar, Compliance and Investigations
*See firm website for complete list of practice areas and industries.