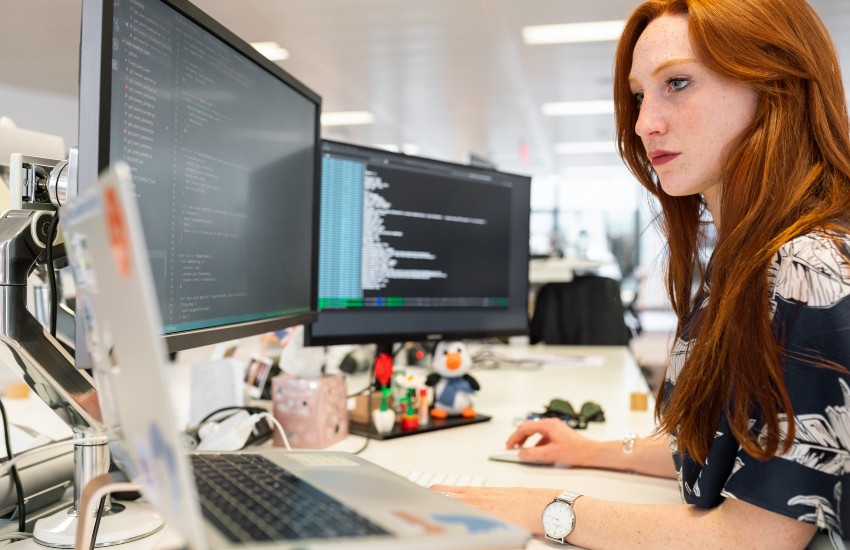 In the past few years, the most significant changes in the tech industry have occurred in fintech. Initially, fintech aimed to improve and automate banking services. Recently, fintech has broadened its scope to improve services in other areas like insurance and real estate—and some of the most exciting advances in fintech have been the rise of AI-powered chatbots.
AI-powered chatbots are used as part of conversational commerce, which aims to streamline and ease the purchasing processes for companies and their customers. AI-powered chatbots assist customers in a dynamic, fast, convenient way while learning what customers want and passing that info along to companies. They help to offer timely and effective services, boosting both customer satisfaction and bottom lines.
Below is more about how chatbots have specifically transformed the fintech industry, and how and where to find great AI roles.
AI has ended long lines and waiting times
Chatbots in the fintech industry came as long-awaited solutions to long lines at bank branches. Chatbots cut lines and waiting times (to almost zero), allowing banks and financial institutions to allocate their resources to more demanding and pressing tasks. It also enabled customers to get their work done from anywhere without compromising the safety of their personal information. By establishing an omnichannel solution, banks and financial institutions were able to address customers' needs at any time and build the basis for strong, long-term customer relationships.
AI has made human staff more effective
One of the biggest benefits of AI is its power to automate time-consuming and repetitive processes. By using AI-powered chatbots, employees can improve their performance. Since they don't have to waste time on repetitive tasks, they can focus on more complex queries demanding a human's help. In that sense, companies can use bots to gather information, provide basic answers, and redirect customers to human agents, if needed.
AI has improved customer satisfaction
One of the things machines can do much better than humans is work without sleep—that is, machines don't require sleep. Instead, they can be available 24/7 to meet customers' demands. This availability further improves the communication and relationship between consumers and providers, as their needs are instantly met. 
AI-powered chatbots can also get instant answers to multiple questions, nearly impossible for human agents. This improves service speed, customer satisfaction, and consistency—with chatbots, customers get consistent answers throughout their sales or service journeys, which instills greater trust.
Lastly, customers get more personalized experiences using AI-powered chats, since companies can access consumers' historical interactions and base future conversations and offers on those insights.
How and where to find AI roles
When you're sure the wide world of AI is for you, the first thing to do is find out which roles companies are hiring for. As a place to start, some in-demand AI occupations include software engineers, data scientists, and software development scientists. Other AI-related occupations that are in demand include product managers and business development roles.
The next step is understanding the skills you need for each role. For example, suppose you want to pursue a career in AI software engineering. In that case, you'd have to possess a background in mathematics and statistics, since you'd have to have an advanced mathematical intuition and understanding of algorithms and know how to interpret the results. You'd also have to be passionate about learning new things since new algorithms and approaches develop rapidly.
No matter which type of AI role you're applying for, another thing that's highly desirable is creativity—the AI industry is full of new challenges and requires finding innovative solutions. In addition, all AI professionals need to have the perseverance to work on long and challenging projects—you have to be ready to try different things before finding the best solution, be patient and persistent, and be enthusiastic about the process.
Finally, you'll want to understand which companies are hiring AI roles. For a place to start, some of the top companies that regularly hire for AI-related roles include Adobe, Amazon, Facebook, Intel, NVIDIA, Rakuten, Uber, and Wells Fargo.
Dina Janevski Farčić is Senior Vice President of Marketing at Centili.
Join Gold to Unlock Company Reviews