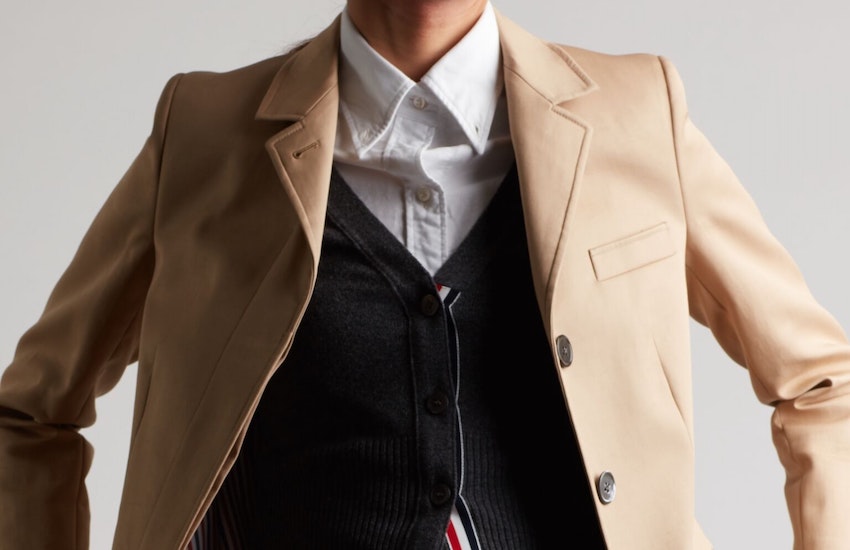 We got used to video interviews during the pandemic. They've become the norm, and it's a good bet they're here to stay. If you have a video interview coming up, you need to do some serious video prep—and that begins with what you should and shouldn't wear. So how do you dress for video-interview success?
1. Choose your shirt carefully
The most important clothing is what can be seen on the screen, so be sure your top half at least is not too casual. Don't wear just any old shirt. Aim for one that is unremarkable—boring is better than loud. You want your interviewer to focus on you, not what you're wearing, so keep things minimal, neutral, and professional. A classic button-down shirt or blouse is a good option. Avoid bright colors, dark colors, and busy prints. The safest choice is to wear white, light blue, light gray, or another light color, providing the color doesn't disappear into your background—for example don't wear white if a white wall is in the background.
The clothes you wear don't have to be formal, but should be both professional and camera-friendly. (And speaking of cameras, the quality of your camera, lighting, and background tremendously affect your appearance on screen, so make sure you have the right equipment, even if you have to borrow it from a friend.)
2. If you wear a blazer, leave the t-shirt in the drawer
What's formal and what's casual are subjective, so research the culture of the company you're interviewing with to get an idea of what's appropriate to wear. Most company websites show photos of the workplace and on-site events. They can be a good indication of how most people there dress, but it's advisable to take it up a notch. For example even if most men in the photos are not wearing jackets, you may want to err on the side of formal. If you do decide to wear a blazer in your video interview, wear a collared shirt with it. While it's possible to look good in a t-shirt with a blazer, it's not recommended for a job interview. For women, a cardigan can also do the trick of making you look prepared and professional when you want an additional layer over a shirt or blouse.
3. Mind what you wear from the waist down
It can be tempting to not put too much focus on what you're wearing off camera—for example, to wear shorts or sweats—but this is a mistake. Dress up head to toe to get into the right frame of mind and make the right impression.
Women may find it more comfortable to wear a dress instead of pants. Again, don't pick one that's too bright or too dark or that has a busy print. A plain, neutral-colored dress is best.
4. Don't over-accessorize
It may be tempting to add stylish accessories, but beware of over-accessorizing. Keep it simple when it comes to jewelry. Limit rings to one or two and choose smaller, classic earrings. A wristwatch is fine, if it's not too distracting. A thin gold-link necklace is a nice option for a professional look.
5. Leave the holiday tie for the holiday party
Depending on the position you're applying for or the company culture, you may or may not need to wear a tie. For most positions it's unnecessary, unless if you're interviewing for a job in law or banking. If you do wear a tie, make sure it isn't too bold or distracting. A classic striped or solid tie will do the trick.
A final note
Video interviews are part of the new normal. Dressing intentionally will help you appear more credible and professional—and get you into the right frame of mind. When it comes to video interviews, remember this golden rule: The focus should be on you, your skillset, and why you're the perfect fit for the job, not on what you're wearing.
Mariam Simmons is a trendsetter at Alpine Swiss and a business fashion enthusiast with a love for writing. She loves traveling to the world's top stylish destinations, and gets inspired to create helpful business fashion and lifestyle guides.
Join Gold to Unlock Company Reviews