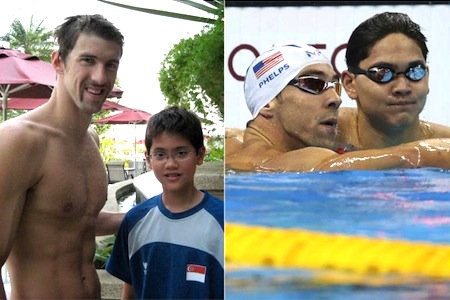 If you watched the Rio Olympics as closely as I did, you were treated to several inspiring performances. Simone Biles' dominance of the floor, vault, and uneven bars. Usain Bolt's unprecedented triple double. Allyson Felix's record-breaking fifth and sixth gold medals. Katie Ledecky's unbelievable 11-second victory in the 800 meter freestyle. And, of course, five-time Olympian Michael Phelps' five gold medals and a silver, which brought the American swimmer's total gold medal count to an insane 23 and overall medal count to an unfathomable 28.
And perhaps just as impressive as Phelps' performance in the pool were the number of athletes who testified to the fact that Phelps was their inspiration, their role model, their reason for being where they are today. Many of these testimonies (often given post-race into an NBC-emblazoned microphone) came from Phelps' own teammates, Ledecky included.
After once getting Michael Phelps' autograph as a 9-year-old, Ledecky now takes over for him as the dominant force leading the decorated U.S. team.
"(Phelps has) had a huge impact on ... a lot of the young swimmers on the team this year,'' Ledecky said in an exclusive interview on TODAY Monday. "I started watching him when I was 6 years old when I was first starting to get in the sport and to be on the team with him has been such an honor."
In addition, many of Phelps competitors pointed to him as their role model. Most notably was Joseph Schooling, the young swimmer from Singapore who beat Phelps in the 100 meter butterfly, handing him his sole silver of the Rio Games. Schooling and Phelps met for the first time not in competition but when Schooling was 13 and Phelps was about to compete in his third Olympics (in 2008 in Beijing). Phelps visited Schooling's swimming club, and Schooling had his picture taken with Phelps. Schooling kept the photo, and after he beat his idol in Rio he was quoted as saying, "If it wasn't for Michael, I don't think I could have gotten to this point. I wanted to be like him as a kid."
On land, another impressive performance in Rio came from the Kenyan men's and women's Olympic teams, both of which had their best Olympics ever (13 medals between them) as they dominated the middle and long distance running events. While watching the Kenyans (and other top East African runners) last week, I had the thought I often do when watching East Africans compete at the Olympic level: How and why are they so much better than the rest of their competitors?
As it turns out, the answer, or at least part of it, has a lot in common with why Schooling, Ledecky, and other U.S. Olympic swimmers struck gold. Which is to say it's not solely based on factors most of us might believe make East African runners so great.
The following appeared earlier this month in Scientific American:
The reigning theory in the West is that runners from East Africa have some evolutionary advantage over runners from other backgrounds. Because so many of the elite runners come from the Oromo ethnic group in Ethiopia and the Kalenjin tribes in Kenya, it is assumed these groups must have adaptations or environments that make them faster … [A] factor that has been largely overlooked, however, is the 'running cultures' that have evolved in specific places within Ethiopia and Kenya.
As in many countries, Ethiopia's running culture started with a notable trailblazer, whose early success seemed to create a crop of young people who wanted to follow in his footsteps. In Ethiopia that was Adebe Bikila, who is still a folk hero today for winning the 1960 Olympic Marathon in bare feet. More recently Haile Gebrselassie's success in the 1990s saw a running boom in his hometown of Asella.
"When you ask people why they got involved in running, it's because they see these people on TV or they heard it on the radio," says Malcolm Anderson, athletics agent and founder of Moyo Sports, a management agency with runners from Kenya, Ethiopia and the U.K. "That's what my athletes tell me. There are so many factors as to why runners get to the level they do, but one of them is the role models."
Going back to Joseph Schooling's victory over Phelps, Schooling's was the first Olympic gold medal for Singapore. Ever. In any event. In fact, since 1948, when Singapore became eligible to compete in the Olympics, the island nation of 6 million people has only won five medals: two bronze medals and a silver in table tennis, one silver in lightweight weightlifting, and Schooling's gold.
It's also important to note that Phelps isn't Schooling's sole role model.
[Schooling] was inspired to aim for the Olympics as a six-year-old after a dinner conversation with his grand-uncle, Lloyd Valberg, a former national high-jumper who was also Singapore's first Olympian, according to local media reports.
I mention Singapore's Olympic record and Schooling's great-uncle (and Ledecky's run-in with Phelps) because of the following finding that also appeared in SA this month:
Knowing someone who does something is always more powerful than knowing of someone who does it. This is probably a significant factor in the high numbers of elite runners from Bekoji and Iten [Ethiopia and Kenya]. In a very different context, it is a phenomenon identified by University of Texas at Austin sociologists Catherine Riegle-Crumb and Chelsea Moore in a 2014 study of 20,000 high school students in the U.S., which set out to research the gender gap in females studying physics. They found that "as the percentage of females [locally] employed in STEM (science, technology, engineering and mathematics) occupations increases, the odds of girls taking physics compared to boys also increases. Put differently, schools in communities with a higher percentage of women in such fields have less of a female disadvantage in rates of physics course-taking."
Indeed, the relation between role models and success is not the sole domain of athletics. It applies to the classroom, to the workplace, and certainly to many other pursuits (I'm thinking of the apprentice culture in the arts and various trade occupations). This is why mentoring is so important, and why it's so important for minority groups, in particular, to have role models to look up to and emulate.
As for the specific reasons behind role models' importance, former Olympic figure skater Sarah Hughes, who won gold in the 2002 Winter Games and is now in law school, had the following to say in a recent New York Times article entitled How Do Olympians Stay So Driven? about her role model Tenley Albright, the first U.S. women figure skater to win Olympic gold.
Having role models is integral to staying motivated. It helps change the mindset from "I'm tired. This is hard. Why bother?" to knowing it is possible to dig deeper and be better. When I think of the trickle-down effect that my efforts could have, I am also motivated to push myself a little harder. I want to inspire others too.
Months after Tenley won gold, she enrolled in medical school, one of few women in her class. All of her professors were male. Today, I am a law student at the University of Pennsylvania. Roughly half my class consists of women, and last year, three of my professors were women.
These numbers are important because—like the numbers on a scoreboard—they represent progress. Numbers can signal setbacks, participation, and help frame our goals. They keep me motivated in sport and in life.
Speaking of numbers, this year there were 292 female U.S. Olympians at the Rio Games, a record number of women athletes for any nation. And the American women won 61 medals vs. the U.S. men's 55, and 27 gold medals vs. 19 golds won by U.S. men.
And speaking of progress, consider that at the 1972 Summer Games in Munich, U.S. women Olympians took home 23 medals vs. the U.S. men's 71. Even more astonishing, in '72 the U.S. women did not win a single gold medal in track and field, or a single medal of any color in gymnastics.
Join Gold to Unlock Company Reviews