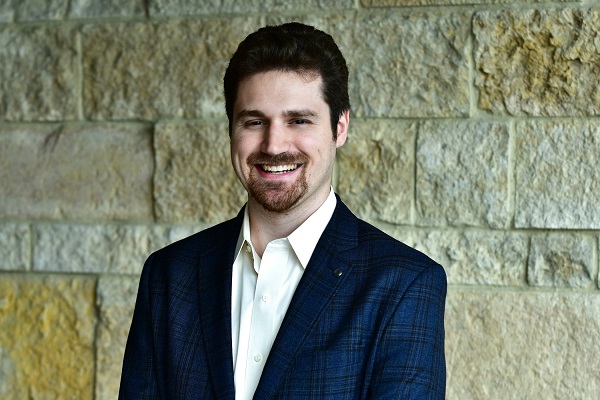 Kyle Harbacek is a Specialist Master with Deloitte Consulting LLP. With strong knowledge in data science and advanced visualization, Kyle joined Deloitte's Government & Public Service (GPS) practice as an analytics consultant, bringing with him several years of technical experience as a senior consultant with a large technology company. We spoke with Kyle recently about his career at Deloitte and how its learning-rich culture positions consultants for success.
Vault: Tell us a little bit about your experience and how you came to join Deloitte.
Kyle: I joined Deloitte in August 2014 as an experienced hire. I was recruited due to my technical experience with advanced econometrics, which would eventually become more of the data science industry. With my previous employer, I did a lot of forecasting and classification modeling—particularly in the fraud, waste, and abuse space—as well as working within civilian agencies understanding how to better forecast and how to align those forecasts with certain mission areas to improve performance and efficiency.
[Joining Deloitte] was a good move because I wanted to be aligned with a professional services organization. My former company was great. They're very large and have a lot of technology predicates, particularly in the software group. But I always liked being more of an advisor first than a deep technical specialist, and the ability to impact the lives of citizens through analytics augmentation of various different agencies' core capabilities was the immediate draw for me to Deloitte. I liked the culture as well. Deloitte really prides itself on talent development and mentorship. As a specialist, I get a lot of opportunities to formally and informally mentor junior resources on how to develop their core analytic skills.
Vault: What was the transition like from your past employer to Deloitte? Was the move to a professional services firm a natural progression for you, or did you find it to be a lot different?
Kyle: I found it to be more of a natural progression. I found my roles throughout my career have shifted to where I see myself more as a managing specialist. I do a lot of the technical development, but I also maintain significant relationships, both with my main client contacts, but also with the organization's senior leaders. I've often found myself taking on a variety of roles and looking for opportunities to really drive innovation.
Vault: In your day-to-day, do you find it challenging to stay ahead of the curve? What's it like to keep up with the pace at which Deloitte moves?
Kyle: I find it to be rather rewarding. As you know, data science as a field is constantly evolving. New techniques are coming out—machine learning and artificial intelligence are classic examples—but it's also the underlying technology that can support these more advanced models at scale.
The process for staying ahead of the tech-maturation curve is really twofold. It's about my passion for developing my skill set, but I also really enjoy the challenge of having to be creative—particularly for Government & Public Services entities and their unique missions—while continuing to add value in a way that can be adopted. It's not always the most sophisticated AI-driven solution that's the most easily adopted. So you have to find the right balance between a solution that meets the requirements from the technology perspective and one that also leads to the best adoption and impact for the organization.
I think it goes back to being an advisor first and a technology specialist second. It's about knowing how to communicate the values of these technologies, but really finding unique combinations so that technology can best resonate and drive innovation.
Vault: One of the things Deloitte continuously excels at is the emphasis of professional development opportunities. What has your experience been like in this regard?
Kyle: I would say it's a learning-rich culture being the formal training you go through—both when you achieve a new level in the organization (we call that a milestone event) and when you have more tactical training that could be aligned with core consulting or any type of technical discipline.
Deloitte supports many of the specialists and deep technologists in terms of getting industry certifications, so there are many opportunities for going through the training curricula that are predicates for getting certified in a particular technology.
There is a very vibrant culture around continuous growth, both in terms of core consulting and also unique technologies and skill sets that can really be defined by the practitioner in their own development plan. The opportunity to help shape practitioner technical skill development or providing general mentorship is one of my main passions a Data Scientist. A unique element of the Deloitte learning culture involves cohorts of specialists supporting diverse practitioner communities, centered around a technical eminence Guild. In this capacity, specialists and other technical resources collaborate in the formulation of various learning programs, develop both internal and external publications, and support prioritized leadership initiatives aligned to tech fluency areas.
I actively participate in this Guild, called the Deloitte Machine Learning Guild. Through this, I have led multiple analytics-focused publications and in-parallel, supported the Guild's learning cohort where I mentored multiple apprentices in the application of industry-focused Data Science techniques throughout the Lifecycle of capstone development. This Apprentice program is a great way for interested Deloitte practitioners to solidify their Data Science skills aligned to solution engineering under the guidance of a Guild certified Specialist. My contributions to the Machine Learning Guild have been extremely rewarding in-terms of personal opportunities to practice my technical eminence area coupled with the opportunity to continue fostering practitioner growth in the field of Big Data Analytics.
Vault: What do you love most about working at Deloitte?
Kyle: I think it's the culture that's really kept me here. It's the ability to work with a very diverse group of professionals and colleagues. I feel the culture allows for the experience I've had—the opportunity to thrive, not just technically, but also in terms of my responsibilities as a specialist master to help Deloitte beyond my immediate project support. I feel Deloitte has equipped me to be a leader first and a technologist second. It's a unique combination because I can satisfy my personal desire to promote innovation in analytics and solution engineering, while also becoming an industry leader in terms of cultivating business relationships and supporting the firm in various technical or strategic ways.
Vault: What's one thing about working at Deloitte that might surprise our readers?
Kyle: I would say that, despite how large Deloitte is as a global organization comprised of various member firms, you'll find that it's actually very approachable. When I first started, I was very surprised by the response of senior leaders as well as the access I had to the principals and partners that manage accounts. It's very open here. People are always looking to advise—always looking to support and coach. Despite being such a large organization, you can develop a network quickly just by communicating and reaching out. It's a very warm culture—everyone is committed to helping practitioners grow.
Vault: Speaking as somebody who has worked in recruitment, do you have any advice for somebody trying to stand out from the applicant pool—or even for someone who is just starting out at Deloitte?
Kyle: I always say it's best to be yourself. I know a lot of people would probably say that, but as much as we're reviewing you and you're going through the talent recruitment process, you're also looking at us. It's good to always go in with an open mind, to always tell a story—to stay relaxed and poised. Don't feel like you have to oversell yourself. Having a good dialogue in the interview always helps from what I've seen.
When you first start, project deliverables are very important, but never neglect your network. Really start cultivating those relationships. I would also say to keep up with your passions. Obviously, when you're on a new project, you're getting your sea legs, and there's going to be a lot of learning to be done. But try to get back to that equilibrium where you can continue to develop your skills and explore your passions. A diverse practitioner who is able to still cultivate new skills and network can really equip themselves for long-term success in terms of developing their career at Deloitte.
--
About Deloitte
Deloitte refers to one or more of Deloitte Touche Tohmatsu Limited, a UK private company limited by guarantee ("DTTL"), its network of member firms, and their related entities. DTTL and each of its member firms are legally separate and independent entities. DTTL (also referred to as "Deloitte Global") does not provide services to clients. In the United States, Deloitte refers to one or more of the US member firms of DTTL, their related entities that operate using the "Deloitte" name in the United States and their respective affiliates. Certain services may not be available to attest clients under the rules and regulations of public accounting. Please see www.deloitte.com/about to learn more about our global network of member firms.

This publication contains general information only and Deloitte is not, by means of this publication, rendering accounting, business, financial, investment, legal, tax, or other professional advice or services. This publication is not a substitute for such professional advice or services, nor should it be used as a basis for any decision or action that may affect your business. Before making any decision or taking any action that may affect your business, you should consult a qualified professional advisor. Deloitte shall not be responsible for any loss sustained by any person who relies on this publication.
Copyright © 2019 Deloitte Development LLC. All rights reserved.
Join Gold to Unlock Company Reviews