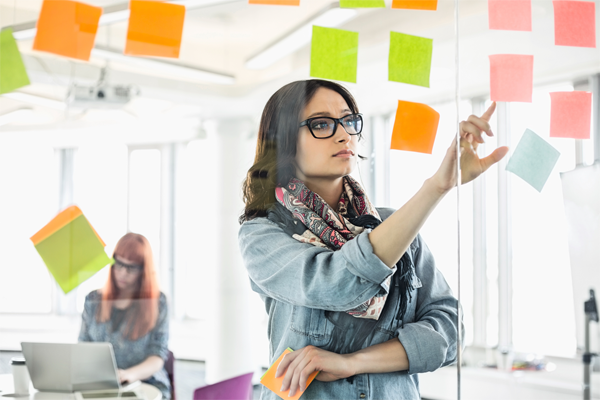 Offices have come a long way since the turn of the century. Today, in place of the "cube farms" prevalent in the 1990s, open-plan office layouts have emerged. And though the jury is out on whether open-plan formats actually improve productivity, most of us now work in this increasingly popular office style. Given this shift, we've compiled some tips on how to make the open-plan layout work better for you.
1. Escape to private areas
Open-plan layouts, made famous by big-player innovators like Google and Apple, are intended to encourage interaction among employees, inviting departments and teams to socialize and build a congenial environment. Compared to the cubicles that were popular in recent decades, this method of working embodies interconnectivity by tearing down the physical barriers to communication. However, the reality is that open-plan offices aren't ideal for everyone. Phones ring, coworkers laugh, and desk neighbors loudly eat their lunches. So, it's easy to see why this environment is distracting for some employees. The solution is finding private areas where you can focus without being disturbed. Additionally, it's important to be considerate of others by keeping noise to a minimum in the main office space. If you need to have a long conversation with a colleague, book a conference room so as not to distract those around you. In other words, find quiet rooms and corners when you need them.
2. Cancel out the noise
The open-plan office is notorious for breeding distractions. Without a physical barrier curtailing communication, employees can talk to each other at a moment's notice. This can be great if you need a piece of information quickly, but it also means that coworkers can have open, lengthy, and loud discussions, which can be distracting (and annoying!) when you have a deadline looming. The solution here is noise-cancelling headphones, which are lifesavers when you're surrounded by chatty coworkers. You could also get some earplugs, which are very useful if you need an hour or two without noise—but you don't have a private, quiet room to use.
3. Improve your desk's aesthetics
You might be surprised to learn that working in a good-looking office space has a direct correlation with your personal well-being and overall productivity. This is backed up by research from the Warwick Business School, which goes some way to prove that "pretty" offices create productive employees. Uber and Apple, for example, have both harnessed this by fitting huge windows in their new office builds in California that allow their staff to look across the impressive views beyond. Of course, you're not in charge of window installation, but you can try to find yourself a window-side seat; studies suggest that employees exposed to more natural light sleep longer on average and can therefore function at their optimum for longer during the workday.
Another tactic to improve the looks of your work space is buying some plants to put on your desk. Plants are an easy way to perk up your office, as they add color and life. In fact, research suggests that office plants can improve productivity by 15 percent. So, a little greenery goes a long way toward helping you if you're feeling unproductive in an open-plan layout.
A third thing you can do is add some art to your workplace. While businesses have largely replaced grey carpets with wooden flooring and bleak furnishings with brighter alternatives, you could benefit by brightening up your desk even more with a piece of your favorite art.
At the end of the day, it's all about tailoring your work space to your preferences, so that you can be as productive as possible.
Mark Haskell is Retail Support Manager of Flooring Republic, factory outlet showrooms for solid and engineered hardwood flooring.
Join Gold to Unlock Company Reviews