At a Glance
Uppers
"Interesting work. Lots of client interaction. Lots of responsibility. Compensation is fair for the type of work and the hours."
"Clients, incredible colleagues, and very specialized practice."
Downers
"I am concerned about the salary compression and below-market bonuses at more senior levels."
"As I assume it is anywhere in this profession, there are always deadlines, and so sometimes it is just inevitable to be having to work nights or weekends to get things done."
About Kilpatrick Townsend
Born of a January 2011 merger between the Atlanta-based Kilpatrick Stockton and the Bay Area's Townsend and Townsend and Crew, Kilpatrick Townsend & Stockton's 600-plus attorneys have spread out from coast to coast and jumped to several continents. The firm is particularly strong in intellectual property litigation, infrastructure, business law, and financial dealings.
Atlanta to the (Peach) Pit
In 1874, Milton Candler and William Thomson founded an Atlanta practice that eventually evolved into Kilpatrick Stockton. Kilpatrick was the first outside law firm retained by the Coca-Cola Company, one of Atlanta's largest businesses, securing the company's federal trademark back in 1893. With most of its offices located in the south, the firm also boasted a roster of clients including household names like Blue Cross and Blue Shield of North Carolina, Delta Airlines, Harley-Davidson, and Krispy Kreme. In 2011, Kilpatrick—with already strong practices in the business law, finance, and copyright and patent arenas—locked hands with Townsend and Townsend and Crew, a California firm focusing on class action work and IP. With the merger, Kilpatrick, which had a substantial presence in the U.S. south and east coast, took advantage of Townsend's outposts on the west coast, Northwest, and Asia.
IP Giants
A regular in the top 20 of Vault's Intellectual Property & IP Litigation ranking, Kilpatrick Stockton is a force in the intellectual property space. The firm has more than 300 intellectual property attorneys among its ranks, who focus on advertising, copyright, patents, trade secrets, and trademarks. The firm's experience is deep. It has worked on more than 26,000 patent applications across the globe and more than 71,000 trademark applications and registrations. In the past five years, the firm has had a hand in close to 1,000 copyright, trademark, and patent lawsuits. In other words—IP is this firm's bread and butter. The firm's work depends on a multi-disciplinary approach, with the firm applying knowledge relating to licensing, joint ventures, M&A, and more as they apply to IP matters.
Making an Impact
Kilpatrick Townsend has combined its corporate responsibility efforts into a six-pronged program called KT IMPACT. The six areas are: community leadership, diversity and inclusion, philanthropy, pro bono, sustainability, and volunteerism. Some diversity efforts include the women's initiative and KT Proud, the firm's LGBTQ affinity network. The firm has also raised more than half a million dollars for nonprofits and supports 10 year-round educational programs in the U.S. They are also one of 15 law firms on the EPA Green Power User List, and have two LEED Gold certified offices, including the Atlanta HQ.
News & Awards
NOTABLE CASES
Cobell v. Babbit, Cobell v. Salazar: Filed in 1996 and settled in 2010, the $3.4 billion payment for mishandling Native Americans lands and accounts was the largest settlement ever against the U.S. government.
Adidas America Inc. vs. Payless Shoesource Inc.: In the largest-ever jury award in a trademark infringement case, Adidas America won a $305 million judgment for copying its distinctive three-stripe shoe design. The copycat product used a near-identical design with four stripes. 
Frito-Lay and Pepsi-Cola: In 1956, the firm handled the H.W. Lay & Company's public offering in 1956. Then, facilitated the 1961 merger of H.W. Lay & Company and Frito Company to form Frito-Lay, Inc. And, in 1965, handled the merger of Frito-Lay, Inc. and Pepsi Cola to form PepsiCo.
California Class vs. Microsoft Corporation: Representing the plaintiffs, California customers of Microsoft received $1.1 billion in benefits through a 2003 settlement of a class action lawsuit alleging violations of California's antitrust and unfair competition laws.
Smith v. Morton Thiokol Inc.: A lawsuit on behalf of the family of Michael J. Smith, space shuttle Challenger pilot who died in its 1986 explosion, asked for actual and punitive damages of $1.5 billion. The suit was settled for an undisclosed sum. 
AWARDS & ACCOLADES
Managing Intellectual Property named KT Americas IP Firm of the Year at the 17th annual Managing IP Awards. The firm was also recognized as the U.S. Trademark Prosecution Firm of the Year for the 4th time, and the Patent Contentious Firm of the Year for the South region. (April 2022)
Kilpatrick Townsend is one of the select firms in the country ranked at the highest level in top IP rankings for: The Best Lawyers in America 2023, U.S. News - Best Lawyers "Best Law Firms", Chambers USA 2022,  Managing Intellectual Property 2022, World Trademark Review 1000 2022, Legal 500 US 2022, and Who's Who Legal. (August 2022)
For the 7th consecutive year, KT received a perfect score of 100% on the Human Rights Campaign Foundation's 2022 Corporate Equality Index (CEI), the foremost benchmarking survey and report on corporate policies and practices related to LGBTQ+ workplace equality. (January 2022)
Why Work Here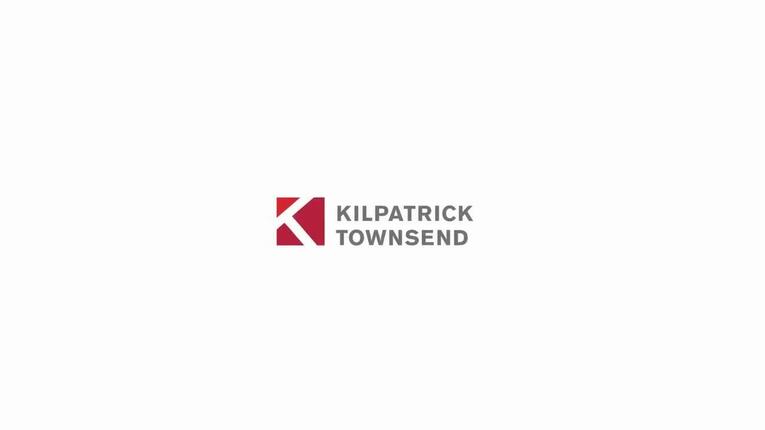 Kilpatrick Townsend
1100 Peachtree Street NE
Suite 2800
Atlanta, GA 30309-4528
Phone: (404) 815-6555

Firm Stats
Chair and CEO: Henry Walker
Managing Partner: Roger Wylie
Hiring Partner: Michael Turton
Total No. Attorneys (2022):
500 - 750
No. of Partners Named 2021:
14
Billable-Hour Requirement:
1,950 hours

Base Salary
Starting salary $205,000 Summer Associate: $3,942/week

Employment Contact
Lori Cates
Attorney Recruiting Manager
(404) 745-2562
lcates@kilpatricktownsend.com

No. of International Offices: 4
Major Office Locations
Anchorage, AK
Atlanta, GA (HQ)
Augusta, GA
Charlotte, NC
Dallas, TX
Denver, CO
Houston, TX
Los Angeles, CA
New York, NY
Raleigh, NC
San Diego, CA
San Francisco, CA
Seattle, WA
Silicon Valley, CA
Walnut Creek, CA
Washington, DC
Winston-Salem, NC I Beijing
Shanghai
Stockholm
Tokyo

Major Departments
Bankruptcy & Financial Restructuring
Business & Finance
Construction & Infrastructure Litigation
Cybersecurity, Privacy & Data Governance
Employee Benefits
Intellectual Property
Labor & Employment
Litigation
Native American Affairs
Pro Bono
Technology Transactions
*See firm website for complete list of practice areas and industries.