2024 Vault Rankings
Best Law Firms by Practice Area
At a Glance
Uppers
"Great, hardworking, entrepreneurial attorneys ready to let you thrive."
"Compensation; culture; quality of work."
Downers
"The hours can be tough sometimes."
"Lack of transparency. Reliance on a few lines of business."
About Cadwalader, Wickersham & Taft LLP
Cadwalader, Wickersham & Taft LLP is the oldest Wall Street firm still in existence. Among its practices are capital markets, corporate, finance, financial regulatory, financial restructuring, litigation, and real estate. The firm is a well-established presence in Charlotte, London, New York, and Washington, DC.
Dating Back to the Days of Washington . . . As in George
Cadwalader was founded in 1792, when folks were still sealing letters with wax and writing with quills, and revolutionized law firms by doing away with the old system of unpaid law clerkships and establishing the role of the associate. 
The present-day Cadwalader forged a niche in the early New York legal field by working on commercial claims, litigation, maritime law, and real estate for banks and representing insurance companies and members of New York society. The real catalyst for the firm's growth and increased financial stability came when former U.S. Assistant Secretary of State John L. Cadwalader joined the firm in 1878, bringing big-time corporate connections with him. 
Cutting Edge
A regular in the top 20 of Vault's Real Estate practice ranking, Cadwalader is well known for its work in the area, which includes construction finance, distressed real estate financings, joint ventures, loan sales, management and leasing, mezzanine loan financings, and mortgage finance.
The firm boasts a strong transactional practice, which includes a stellar reputation for its capital markets and securities work. Cadwalader is a consistent top 20 firm on Vault's Securities/Capital Markets ranking, and in May 2021, the firm was recognized by IFLR Americas as a Structured Finance and Securitization "Team of the Year." The firm's regulatory bona fides are at the top of industry—the firm garnered another IFLR Americas "Team of the Year" award in the financial services regulatory category. The firm also received a 2020 Law360 "Practice Group of the Year" award in the Banking category. Cadwalader also tries to stay on the cutting edge and provide innovative solutions for its clients. For example, Cadwalader uses drafting automation software, workflow tracking systems, and machine learning to improve accuracy and efficiency. The firm has also developed a custom application to address the unique needs of the commercial mortgage-backed securities industry.
Beyond Billables
The firm offers a year-long First Year Training as well as a Mid-Level Training Program and a Business Development Training Series for all attorneys to sharpen their business development skills in such areas as networking, branding, developing relationships, and perfecting pitches. But educational opportunities aren't all about work. For example, through its Civil Rights Series initiative, the firm hosts speakers from a variety of civil rights organizations, including The Leadership Conference on Civil and Human Rights, The Women's March, Lambda Legal, GLAD, The Southern Poverty Law Center, ACLU, NAACP, the Brennan Center for Justice, the NYC Commission for Human Rights, and the Center for Reproductive Rights. The goal of the program is to spark conversation and involvement in pro bono and the community.
News & Awards
NOTABLE CASES
Following the Great Depression, Cadwalader handled two of the most publicized cases of the era: the Gloria Vanderbilt custody case and the copyright infringement suit involving Gone with the Wind.
In the 1970s, litigation in the financial arena increased dramatically, as insider trading and white-collar crimes were aggressively prosecuted. Cadwalader's high-profile cases included Tavoulareas v. The Washington Post, the Agent Orange class action suit, the Dalkon Shield class action suit, and the Fund of Funds case.
In 2018, Cadwalader was selected by the Federal Reserve's Alternative Reference Rates Committee (ARRC) to develop best practices for cash products in the post-LIBOR world—a $200 trillion market. The firm counsels a number of major global financial institutions and regional banks on their LIBOR transition. The firm even drafted the legislation adopted by New York State that addresses legacy contracts and advised the U.S. federal government and the European Commission on LIBOR-related legislation.  
In 2021, the firm advised on the $3 billion CMBS refinancing of New York's One Vanderbilt skyscraper, the second-tallest building in Manhattan. This transaction represents the largest-ever fixed-rate CMBS financing secured by a single asset.
AWARDS & ACCOLADES
"Practice Group of the Year" for Structured Finance, Hospitality, 2022—Law360
Ranked among the leading law firms as part of the annual North America "Innovative Lawyers" awards in Market Firsts (for the Real Estate Finance practice's work) and Client Delivery (for a firm-wide innovation program), 2022—Financial Times
Named "Law Firm of the Year" in Derivatives and Futures Law, 2023—U.S. News—Best Lawyers "Best Law Firms" 
Named "CMBS Law Firm of the Year," 2022—GlobalCapital U.S. Securitization awards
Awarded "Diverse Women Lawyers International Firm of the Year" and "U.S. – South Firm of the Year" in recognition of the excellence of the firm's Charlotte office, 2022—Women in Business Law Awards for the Americas
Why Work Here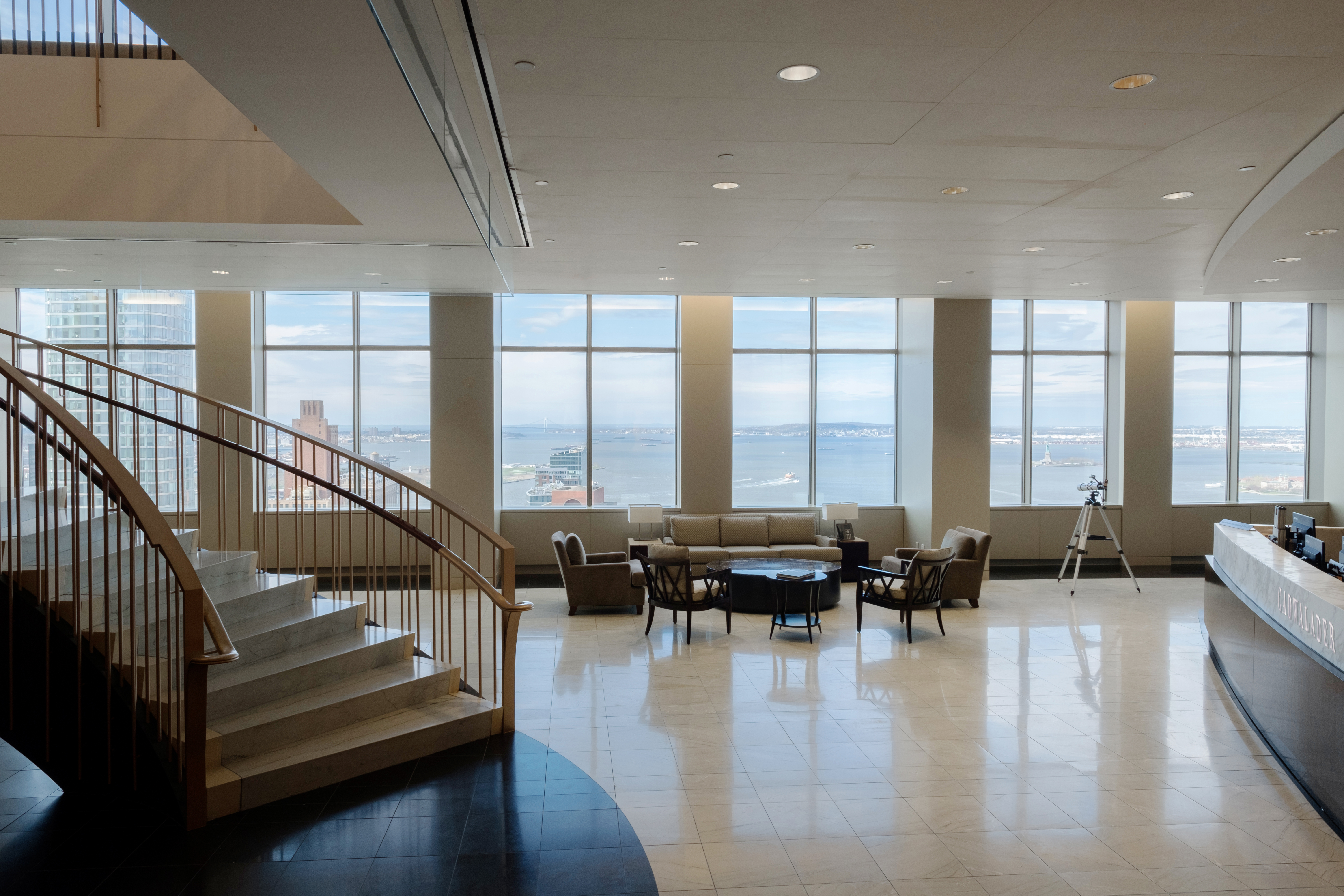 Cadwalader, Wickersham & Taft LLP
200 Liberty Street
New York, NY 10281
Phone: (212) 504-6000

Firm Stats
Managing Partner: Patrick Quinn
Hiring Partners: Henry A. LaBrun (Charlotte); Lisa J. Pauquette (New York); Gregory W. Langsdale (Washington, DC)
Total No. Attorneys (2023):
250 - 500
No. of Partners Named 2023:
9
Billable-Hour Requirement:
2000

Base Salary
1st year: $215,000
2nd year: $225,000
3rd year: $250,000
4th year: $295,000
5th year: $345,000
6th year: $370,000
7th year: $400,000
8th year: $415,000
9th year: $425,000
Summer Associate: $4,135 /week

Employment Contact
Tara Conlon
Director of Legal Recruitment
(212) 993-2929
tara.conlon@cwt.com
General Recruiting Email: recruiting.ny@cwt.com

No. of International Offices: 2
Major Office Locations
Charlotte, NC
New York, NY (HQ)
Washington, DC I
London
Dublin

Major Departments
Antitrust
Banking
Capital Markets
Corporate
Derivatives & Structured Products
Executive Compensation, Benefits & ERISA
Finance
Financial Regulation
Financial Restructuring
Financial Services
Fund Finance
Insurance and Reinsurance
Intellectual Property
Investment Management
Litigation
Private Wealth
Real Estate
Securitization & Asset Based Finance
Tax
White Collar Defense and Investigations
*
See firm website for complete list of practice areas and industries.