About Adam Leitman Bailey, P.C.
You might have guessed that Adam Leitman Bailey, P.C. was founded by a trio of lawyers, but the three monikers all belong to one man: Adam Leitman Bailey. Bailey still helms the firm he founded two decades ago. Known for their expertise in New York real estate law, the firm's attorneys regularly represent clients in real estate disputes as well as leasing and property transactions.
Two Decades of Success
At the dawn of the new millennium, Adam Leitman Bailey opened the doors of the firm by bartering legal services to his landlord in exchange for office space. Bailey vowed to only take on business where he believed he could be the best lawyer for the case or deal. Firm lawyers have all adopted Adam Leitman Bailey's original client service policies—returning every call within 24 hours and using computerized systems to track the status of every case and matter—and sharing each of those updates with the clients.
Real Litigators
While most real estate lawyers focus on transactional work, a good deal of Adam Leitman Bailey attorneys—including Mr. Bailey himself—are courtroom litigators. Firm lawyers have won more than a thousand cases in State, Federal, and Housing court, including more than 250 appellate court cases—many at New York's highest court, the Court of Appeals. The firm has won New York City's largest condo refund ever, the largest government grant for a cooperative in New York history, and the largest settlement in city history for a property casualty lawsuit. Other firm victories include preventing the eviction of tenants of the largest residential building in Harlem and winning the rights for the developers to proceed with the so-called "Ground Zero Mosque."
Always Be Closing
The firm's expertise goes beyond the courtroom though, as firm lawyers participate in some of New York's largest and smallest leasing and property transactions. Leases, purchase agreements, and other documents drafted by the firm have been published as legal forms by a number of publishers. Adam Leitman Bailey, P.C. has represented buyers and sellers in nearly every co-op and condo in the city and has worked on the development of projects from four to 400 units in size.
Eat What You Kill
Adam Leitman Bailey attorneys can earn significantly more than their BigLaw counterparts thanks to the firm's unique revenue sharing program. Every attorney in the firm, associates and partners alike, receive at least one third of the collected billable hours. And firm benefits include bi-weekly "Spa Fridays," when every employee can get a complimentary manicure or massage in their office.
COVID-19 Update
Adam Leitman Bailey, P.C. always chooses the most talented applicants. Even during the coronavirus pandemic, we have pushed forward and remained resilient. Adam Leitman Bailey, P.C. not only continued to pay salaries, but we are also one of the only firms that hasn't had to lay off an employee. When interviewing candidates for these positions, we look to see whether they have the potential to be great at our firm. Once we hire someone, the training, mentoring and teaching never stops. We strive for greatness in everything we do and expect our team to do the same. We encourage you to express your opinions and share your ideas to improve our work even during these tough times.
Why Work Here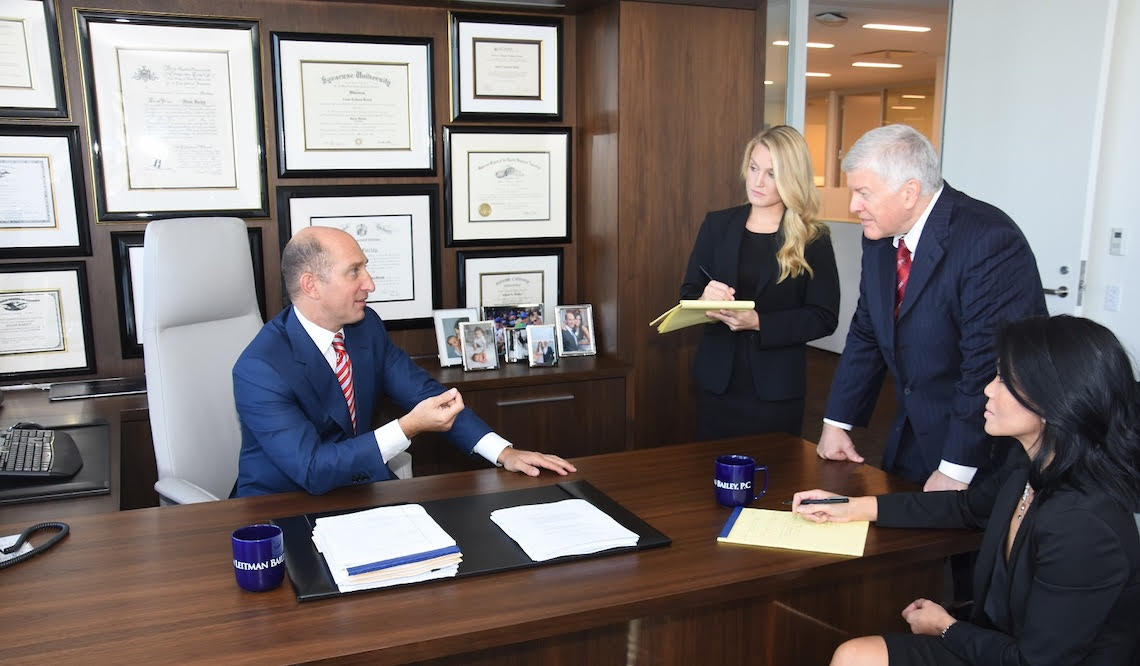 Adam Leitman Bailey, P.C.
One Battery Park Plaza, 18th Floor
New York, NY 10004
Phone: (212) 825-0365

Firm Stats
Managing & Hiring Partner: Adam Leitman Bailey
Total No. Attorneys (2022):
1 - 50
No. of Partners Named 2021:
1
Billable-Hour Requirement:
1,600 hours

Base Salary
1st Year: Salary is based on an individualized revenue sharing program determined by the amount of business brought in. Summer Associate: Receive a per diem based on a $100,000/year salary

Employment Contact
Ashley Weiner
aweiner@alblawfirm.com
General Email: info@alblawfirm.com

No. of International Offices: 0
Major Office Locations
New York, NY

Major Departments
Real Estate Litigation
Condominium & Cooperative Representation
Landlord Representation
Foreclosure Litigation Group
Appellate Litigation
Title Insurance Claims Group
Insurance Defense Litigation
Purchase and Sale of Homes
Housing Discrimination
Due Diligence & Transactional Risk Assessment
Homeowner and Tenant Associations
Mortgage Finance Practice Group
Bankruptcy & Creditor's Rights
Commercial Leasing Services
Real Estate Brokerage Litigation
Real Estate Administrative Proceedings
Purchase and Sale of Multi-Family Dwellings & Buildings
Tenant Representation
*See firm website for complete list of practice areas and industries.