2023 Vault Rankings
Best Law Firms by Practice Area
Best Midsize Law Firms to Work For
At a Glance
Uppers
"I could not imagine getting along better with my colleagues or working with a more talented group of lawyers. I learn from my colleagues continually."
"The substantive opportunities in a wide range of high-level trial and appellate matters."
"Good compensation."
Downers
"Long hours."
"There is substantially less support staff and infrastructure than at BigLaw firms."
"The variety of practice can be challenging at times. You are always having to learn new subject areas, which is usually great, but it can be stressful."
About MoloLamken LLP
In just over a decade of existence and with just 40 attorneys, MoloLamken has quickly made a name for itself among the heavy hitters of boutique litigation shops. With offices in three of the country's major metropolises—New York, Chicago, and Washington, DC—MoloLamken's attorneys focus on complex business litigation, white collar criminal defense, and intellectual property.
What Recession?
Superstar attorneys Steven Molo and Jeffrey Lamken took a gamble and left prestigious and well-established BigLaw firms to start their own boutique and did so at a rather perilous moment: in October of 2009, in the midst of the recession. Molo had spent more than five years as a litigation partner at Shearman & Sterling. He'd been a senior litigator and member of the Executive Committee of Winston & Strawn prior to that, and he had begun his career as a prosecutor in Chicago. Meanwhile, Lamken was busy heading the Supreme Court and Appellate Practice at Baker Botts, after serving as an Assistant to the Solicitor General. The two met representing Morgan Stanley during its successful hundred billion-dollar appeal against financier Ron Perelman and bonded over a mutual belief that complex litigation would be more efficiently carried out by eliminating unnecessary overhead. Thus, the small firm with a flexible billing structure—charging clients primarily based upon the results achieved rather than the hours billed—was born.
Molo and Lamken's gamble paid off. Within less than two years, MoloLamken had made its mark, winning six cases in the U.S. Supreme Court and achieving success in other trial and appellate courts. The firm is known for its meticulous attention to detail and for pushing cases toward trial, where its stars can shine. They have represented everyone from Fortune 500 companies to foreign banks, hedge funds, whistleblowers, Wall Street brokers, the former U.S. Attorney General, and foreign governments.
No Rookies in the Lineup, Please
MoloLamken is looking to climb higher up the double-digit ranks and has set an ultimate goal of 40-50 lawyers. But don't scramble for that resume just yet: you'll need to rack up a good few years as an associate at a larger firm first—and judicial clerkship experience is preferred. MoloLamken's high-stakes, complicated cases and consequent premium on experience mean it doesn't hire associates fresh out of school.
Connoisseurs of Complex Litigation
The firm is known for taking on bet-the-farm cases, which is to be expected considering some of its partners' experience. Before founding the firm, Steven Molo represented Deutsche Bank against Donald Trump. And in his prior role of Deputy Chief of the DOJ's Public Integrity Section, partner Justin Shur prosecuted both John Edwards and David Safavian, an associate of "Casino" Jack Abramoff. MoloLamken represents both plaintiffs and defendants in litigation and certainly isn't afraid of challenging the status quo. The firm has taken on corporate giants the likes of Alibaba, JP Morgan Chase, Citicorp, and Groupon, as well as Michael Lewis—the bestselling author known for The Big Short and The Blind Side.
Why Work Here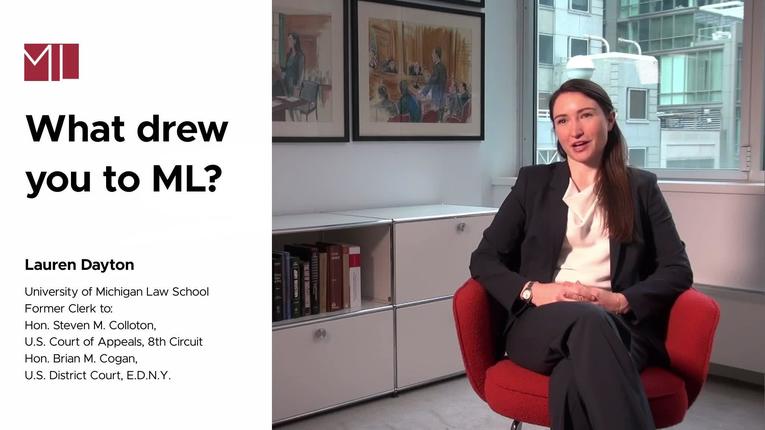 MoloLamken LLP
430 Park Avenue
New York, NY 10022
Phone: (212) 607-8160

Firm Stats
Managing Partners: Steven F. Molo & Jeffrey A. Lamken
Recruiting Chair: Eric Nitz
Total No. Attorneys (2021):
1 - 50

Base Salary
Salary not disclosed.

Employment Contact
General Recruiting Email: careers@mololamken.com

No. of International Offices: 0
Major Office Locations
Chicago, IL
New York, NY
Washington, DC

Major Departments
Appeals
Arbitrations
Bankruptcy, Insolvency, & Restructuring Litigation
Complex Business Litigation
Intellectual Property and Technology
Internal Investigations
Securities Litigation
White Collar Defense and Investigations
*See firm website for complete list of practice areas and industries.