At a Glance
Uppers
"My coworkers kept me sane during the pandemic."
"BigLaw work, without almost any of the BigLaw cons."
"Support to create work-life balance."
Downers
"Hours are BigLaw."
"Feeling like you are constantly 'on.'"
"Expectations are sky high."
About Goodwin
Founded more than a century ago, Goodwin has grown to more than 1,800 lawyers in 14 offices throughout the U.S., Europe, and Asia. The firm has adopted what it calls a "capital-meets-innovation platform" through which the firm advises both innovators and investors in the financial, private equity, real estate, technology, and life sciences industries.
Ethics First
In 1912, Harvard classmates Robert Goodwin and Joseph Procter ran into each other in the street and decided to start a law practice together, opening Goodwin & Procter later that year. Two years later, the founders helped a sardine packing company issue preferred stock but later discovered the company financials were fabricated. They took out a $30,000 loan to buy back all outstanding shares at face value and established an ethical standard for their new firm. Fraud would play another key role in the early days of the firm when Robert Goodwin served as the bankruptcy referee who sorted out the original Ponzi scheme—the one perpetrated by Charles Ponzi himself. 
Technology Trailblazers
Goodwin's strengths include real estate, capital markets, private equity, technology and life sciences, financial services, intellectual property, securities litigation and white collar defense, and government investigations. The firm's corporate practice is among the top 20 in Vault's General Corporate Practice Area ranking and includes everything from capital markets and debt finance to financial restructuring and M&A to private investment funds and venture capital, and more.
The firm also has a bustling real estate practice with a global reach. Among the areas that its real estate lawyers tackle are hospitality and leisure deals, joint ventures, portfolio and REIT M&A, and private equity and debt financings. The firm partners with Columbia Business School annually to present its Real Estate Capital Markets Conference. The firm has also launched an initiative called PropTech, which brings together its real estate and technology lawyers to address the increasing intersection between real estate and technology.
Across the Map
Over the past several decades, Goodwin has grown internationally, opening outposts in Hong Kong, London, Munich, Frankfurt, Paris, Luxembourg, and Cambridge. Lawyers in Goodwin's Hong Kong office represent private equity, venture capital, M&A, IP, and capital markets clients, as well as technology and life sciences companies. It also features hospitality, real estate, and anti-corruption practices. The London office focuses on real estate, fund formation, financial services, real estate private equity, hospitality, and cross-border transactions, with principal clients including Deutsche Asset & Wealth Management (previously known as RREEF), Angelo Gordon, Ares Management, Brookfield Office Properties, Four Seasons, GreenOak Real Estate Advisers, Kennedy Wilson, and TIAA Henderson Real Estate. The firm's Frankfurt office offers one of the leading teams in the European real estate, finance, and corporate sectors. The Paris office advises on private equity and M&A work and has expanded its capacity to serve clients on complex real estate, financial restructuring, and tax matters. In 2019, Goodwin opened a life-sciences-and-technology-focused Cambridge office in the heart of Silicon Fen, as well as a Luxembourg office that works with the firm's existing London-based Luxembourg desk to serve as a single solution for clients raising and deploying capital in Europe. The firm also recently added an office in Munich.
News & Awards
NOTABLE CASES
Goodwin and Moderna have worked together from the company's founding in 2010 through to the development of Moderna's groundbreaking COVID-19 vaccine.
Goodwin achieved a significant immigration law victory in the U.S. Supreme Court in Niz-Chavez v. Garland, potentially allowing for tens of thousands of noncitizens to apply for cancellation of removal.
In the UK's biggest real estate transaction of 2019, Goodwin advised Medical Properties Trust on the acquisition of a corporate structure owning a portfolio of acute care hospital facilities.
A female-led Goodwin Technology team advised the underwriters of DoorDash's $3.4 billion IPO.
AWARDS & ACCOLADES
#1 Firm for Global M&A by Deal Count, 2021—Refinitiv
Biotechnology Law Firm of the Year, 2022—Best Lawyers
Mansfield Rule 4.0 Certified, 2021—Diversity Lab
Best Client-Law Firm Team, 2021—The American Lawyer
Private Equity Law Firm of the Year in France, 2021—Private Equity Magazine
Why Work Here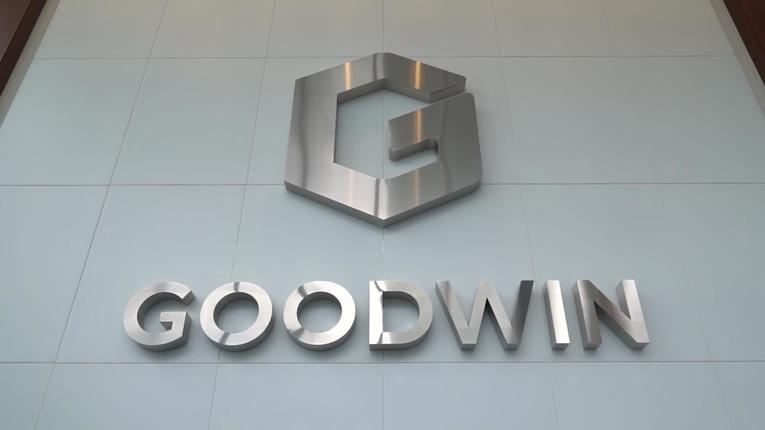 Goodwin
100 Northern Avenue
Boston, MA 02210
Phone: (617) 570-1000

Firm Stats
Chairman: Robert S. Insolia
Managing Partner: Mark T. Bettencourt
Hiring Partners: Emily L. Rapalino (National); Srikanth K. Reddy (Boston); Brooks R. Brown (DC); Chauncey M. Swalwell (LA, STM); Christopher B. Price (NY); Kevin Lam (NorCal); John G. Casnocha (Hiring Lead, SF); Dane A. Patterson (Hiring Lead, SV)
Total No. Attorneys (2022):
1.5K - 2K
No. of Partners Named 2021:
40
Billable-Hour Requirement:
1,950

No. of International Offices: 7
Major Office Locations
Boston, MA
Los Angeles, CA
New York, NY
San Francisco, CA
Santa Monica, CA
Silicon Valley, CA
Washington, DC | Cambridge
Frankfurt
Hong Kong
London
Luxembourg
Munich
Paris

Major Departments
Financial Industry
Private Equity
Real Estate Industry
Commercial Litigation & Dispute Resolution
Technology
Life Sciences
*See firm website for complete list of practice areas and industries.