At a Glance
Uppers
"I work with wonderful people who make me laugh even when I'm frustrated at working long hours."
"The focus is really on delivering great work for the clients and not on internal politics and drama."
"We have a vacation coverage system in place. It allows people to generally check out when they are off."
Downers
"During certain months, billable hours may extend to the weekend and [interfere] with private and family life."
"Sometimes demanding hours and clients. Because of the central staffing system, you can't choose who you'll work with."
"The lack of work-life balance. This is ubiquitous for BigLaw, but it is magnified upon hitting parenthood."
About Simpson Thacher
A Wall Street institution, Simpson Thacher houses elite teams in M&A, banking, capital markets, private equity, and litigation. With more than 1,000 lawyers across 11 global offices, Simpson Thacher has long held its spot among the most elite law firms in the world.
Hear Them Roar
In 1884, three Columbia Law grads—John Woodruff Simpson, Thomas Thacher, and William Milo Barnum—hung a shingle in lower Manhattan. It didn't take them long to leave their mark in the history books, jumping right into the railroad reorganizations of the 1880s and having a hand in some of the most important deals relating to U.S. infrastructure—for example, advising none other than General Electric as it set up power and light companies, setting up the American Locomotive Company, and structuring the American Gas and Electric Company. These early years were but a preview of the sophisticated work that was to come.
Racking Up Rankings
With top 10 rankings in six of Vault's transactional practice area rankings—Private Equity, Securities/Capital Markets, Banking & Financial Services, General Corporate Practice, M&A, and Project Finance—Simpson Thacher sits pretty upon a corporate throne. The firm has one of the world's premier M&A practices, with a unique strength in all aspects of private equity. Simpson Thacher's award-winning corporate practice leads front-page deals involving M&As, private fund formation and investments, equity and debt capital markets offerings, joint ventures, project financings and infrastructure development, structured financings, syndicated loans, debt restructurings and bankruptcies, privatizations, and real estate transactions. The firm counts American Electric Power, Apax Partners, Aramark, Bank of America Merrill Lynch, Blackstone, Carlyle Group, EQT, First Reserve, Hellman & Friedman, Hilton Hotels, KKR, Mars, Microsoft, New Mountain Capital, Silver Lake Partners, Stonepeak, and Weight Watchers among its clients.
While their corporate counterparts are making deals, the firm's litigators are making their own headlines. Simpson Thacher is among the top 30 firms in Vault's General Commercial Litigation ranking and top 10 firms in Vault's Securities Litigation ranking. The firm's securities litigators have represented the most prominent financial institutions and corporations in securities fraud and financial-related litigation, including Alibaba, Bausch Health, Blackstone, Change Healthcare, HCA, JPMorgan Chase, KKR, Pfizer, TD Bank, Travelers, Twitter, and Viacom. Simpson also brings its A-game when it comes to white collar work. Among the areas that its Government and Internal Investigations attorneys handle are financial fraud, FCPA, health care fraud, insurance fraud, violations of the FCA, anti-money laundering violations, and much more.
Ready, Ready, Ready
If there is one thing associates at Simpson Thacher can be sure of, it's that they have the support they need to develop in their legal careers. First years participate in the firm's innovative new training program called STBReady, which is taught in collaboration with Columbia Business School. The program covers business and financial literacy, as well as the kind of work associates will do in their specific practice areas and industry-specific knowledge and techniques. The training also helps associates hone their teamwork, efficiency, knowledge sharing, and technology use.
News & Awards
NOTABLE CASES
• Simpson Thacher is an M&A powerhouse, advising on 196 deals worth nearly $424 billion in 2022, including three of the largest deals of the year. The firm represented Twitter's board in the company's $44 billion sale to Elon Musk and is representing Microsoft in its $68.7 billion acquisition of Activision Blizzard and Silver Lake in the $61 billion sale of VMWare to Broadcom.
• Simpson Thacher advised Blackstone in the establishment of its tenth global opportunistic real estate fund, Blackstone Real Estate Partners X, which closed in 2023 with a record $30.4 billion in capital commitments, making it the largest real estate or private equity drawdown fund ever raised.
• Simpson Thacher's pro bono team is active on important matters nationwide, such as working with the ACLU to win an anti-Muslim bias case in Mississippi, where the firm secured a consent decree to permit the construction of a mosque. The firm also won a major Title IX appeal in the Ninth Circuit in a gender discrimination case profiled in the New York Times.
AWARDS & ACCOLADES
Top Global M&A Legal Advisor, 2022—Bloomberg, Refinitiv
Banking & Finance Law Firm of the Year, 2022—Chambers USA
Practice Group of the Year in Banking, Capital Markets, Fund Formation, Mergers & Acquisitions, Private Equity, and Technology, 2022—Law360
Finance Litigation Department of the Year, 2022—New York Law Journal
Pro Bono Law Firm of the Year, 2023—Benchmark Litigation
Why Work Here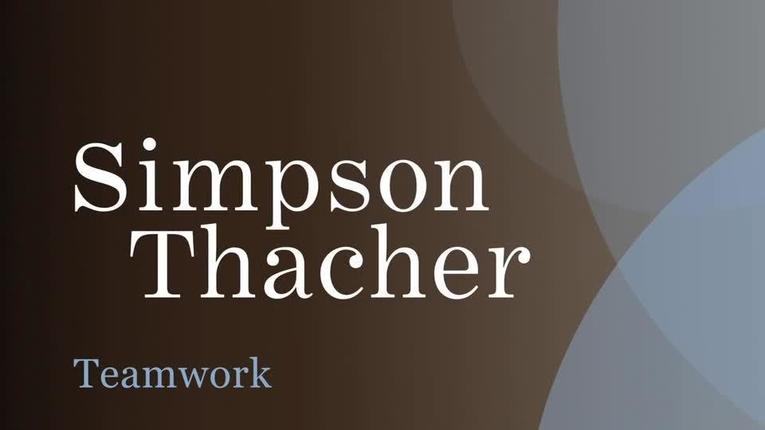 Simpson Thacher
425 Lexington Avenue
New York, NY 10017
Phone: (212) 455-2000

Firm Stats
Chairman of Executive Committee: Alden Millard
Hiring Partners: Peter Gilman, Juan Naveira, and Jessica Tuchinsky
Total No. Attorneys (2023):
1K - 1.5K
No. of Partners Named 2023:
28

Base Salary
1st year: $215,000
2nd year: $225,000
3rd year: $250,000
4th year: $295,000
5th year: $345,000
6th year: $370,000
7th year: $400,000
8th year: $415,000
Summer Associate: $4,134 per week

Employment Contact
Ann Bjornstad
Director of Legal Recruiting
(212) 455-7633
legalrecruiting@stblaw.com

No. of International Offices: 6
Major Office Locations
Houston, TX
Los Angeles, CA
New York, NY (HQ)
Palo Alto, CA
Washington, DC |
Beijing
Brussels
Hong Kong
London
São Paolo
Tokyo

Major Departments
Banking and Credit
Capital Markets
Executive Compensations and Employee Benefits
Exempt Organizations
Financial Institutions
Government and Internal Investigations
Intellectual Property
International Regulatory and Compliance
Investment Funds
Labor and Employment
Litigation
Mergers and Acquisitions–Corporate M&A and Private Equity
Personal Planning
Private Capital and Special Situations
Public Company Advisory Practice
Real Estate and REITs
Restructuring and Bankruptcy
Tax
*See firm website for complete list of practice areas and industries.