At a Glance
Uppers
"The work is sophisticated, but I don't feel overwhelmed."
"The extent to which my firm invests in my professional development."
Downers
"There could potentially be more events during the year."
"Feeling the need to be in office even when slow."
About Bracewell
With approximately 350 lawyers across 10 offices—including two international posts—Bracewell LLP is a global firm with a range of practices. But the firm's roots in the Lone Star state are still strong as is demonstrated by its four Texas locations and its strength in energy.
Hailing from Houston
Bracewell started as a glimmer in the eyes of four Houston attorneys (three of whom bore the surname Bracewell) in 1945. J.S. Bracewell, his sons Searcy and Fentress, and Bert H. Tunks established a practice that was quickly associated with Texas movers and shakers—Searcy Bracewell himself was elected to the Texas House of Representatives in 1947 and Senate in 1949. Harry Patterson joined in 1951 and ascended to name partner in 1966. Originally a litigation shop, the firm established a corporate practice in 1971 to better serve the many commercial clients drawn to the state's booming economy.
Branching Out
Over time, the firm has continued to add niche practices in response to Houston's growth as a regional business hub. That said, Houston's sprawling growth has benefited Bracewell above all else by driving the creation of one preeminent specialty: energy work. Bracewell represents such companies as Kinder Morgan, Inc., Apache Corporation, Phillips 66, and Cheniere.
Meanwhile, Bracewell has grown strategically since the mid-1970s when it opened offices in Washington, DC, and Austin to advise clients on state and federal regulatory matters. The firm's London office provides a vital platform from which attorneys serve energy clients in Europe, Africa, and the Middle East. And the Dubai office serves as a base for U.S. and foreign clients involved in P3, infrastructure, EPC, and power and renewables deals, as well as general corporate work. Further expansion stayed close to home—with the opening of offices in Dallas and San Antonio—and branched out to other U.S. locales like New York and Seattle, strengthening the firm's banking and finance, government enforcement and investigations, and IP litigation platforms.
News & Awards
NOTABLE CASES
Bracewell represents Navigator CO2 Ventures in connection with Heartland Greenway, one for the first large-scale, commercially viable CO2 pipelines and storage facilities in the United States.
Bracewell represented Equinor in its first foray into the US offshore wind market and continues to represent Equinor in connection with the Empire Wind and Beacon offshore projects.
Bracewell represented Kinder Morgan in the development of $2 billion Permian Highway Pipeline Project, including successfully defending it against litigation challenges.
Bracewell represented The Trevor Project in establishing 9-8-8 as the National Suicide Prevention Hotline and ensuring that LGBTQ+ youth have access to specialized services.
Why Work Here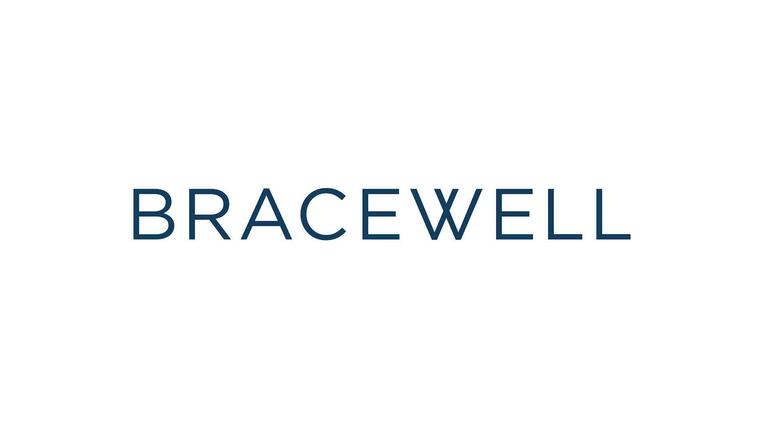 Bracewell
711 Louisiana Street
Suite 2300
Houston, TX 77002
Phone: (713) 223-2300

Firm Stats
Chairman and Managing Partner: Gregory M. Bopp
Hiring Partners: Molly Butkus and Dewey Gonsoulin, Jr. (Houston)
Total No. Attorneys (2023):
250 - 500
No. of Partners Named 2023:
7
Billable-Hour Requirement:
2,000 hours

Base Salary
1st year: $ 215,000
2nd year: $225,000
3rd year: $250,000
4th year: $295,000
5th year: $345,000
6th year: $370,000
7th year: $400,000
8th year: $415,000
Summer Associate: $4134.80 per week

Employment Contact
Jennifer S. Queen
Chief Talent Officer
(214) 758-1625
jennifer.queen@bracewell.com

No. of International Offices: 2
Major Office Locations
Austin, TX
Dallas, TX
Hartford, CT
Houston, TX (HQ)
New York, NY
San Antonio, TX
Seattle, WA
Washington, DC |
Dubai
London

Major Departments
Corporate & Securities
Energy
Energy Regulatory
Environmental Strategies
Finance
Financial Restructuring
Government Relations
Healthcare & Life Sciences
Infrastructure Development
Intellectual Property
Labor & Employment
Litigation
Project Development & Finance
Public Finance
Real Estate
Tax
Technology
White Collar Defense
*See firm website for complete list of practice areas and industries.