At a Glance
Uppers
"The people and atmosphere are top-notch."
"Excellent compensation."
Downers
"Unpredictability of work flow."
"Long hours."
About Ropes & Gray
With 11 offices across the U.S., Europe, and Asia, Ropes & Gray is an international firm that prides itself in handling cutting-edge work. A regular atop legal industry rankings, the firm is adept at assisting clients in complex, highly regulated industries like asset management, health care, life sciences, private equity, and technology. 
From Boston to Worldwide
John Codman Ropes and John Chipman Gray, Harvard Law grads, founded the firm in Boston in 1865. The Great Depression saw the firm develop its bankruptcy practice, the New Deal sparked the firm's labor practice, and the creation of the SEC added financial reports to its services. By the 1960s, the firm had grown to nearly 75 attorneys. Today, the firm is home to more than 1,400 lawyers in offices worldwide advising across 60-plus practice areas. 
Boardrooms and Courtrooms
While its practice is wide ranging, Ropes & Gray is best known for its work in private equity. Ranked among the top 10 in Vault's Private Equity practice area ranking, the firm's private equity practice has also been recognized by the likes of Chambers USA, IFLR1000, The Legal 500 U.S., and U.S. News & World Report's Best Lawyers "Best Law Firms." The firm has claimed Law360's honor of Private Equity Practice Group of the Year seven times. Clearly, Ropes & Gray is a private equity powerhouse. With around 200 lawyers focused on the practice, the firm assists private equity clients with acquisitions, compliance matters, financings, and more.
Ropes & Gray also boasts a strong asset management practice, combining the firm's deep experience in hedge funds, private investment funds, and registered funds. The firm is particularly attuned to evolving trends and regulatory matters. Offering a multi-disciplinary approach, Ropes & Gray assists asset management clients in a range of areas, including business restructuring, compliance, labor and employment, M&A, and securities litigation—to name some.
On the litigation side, Ropes & Gray is home to hundreds of litigators whose work is wide ranging. The firm has been recognized time and again for its work in privacy and data security, securities litigation, and white collar defense. Of particular note, the firm smashed ground as co-counsel in the marriage equality case Obergefell v. Hodges before SCOTUS, which extended marriage rights to same-sex couples across the United States. 
Come Home
Ropes & Gray develops deep ties with its lawyers for the length of their careers—from starting as summer associates to exploring opportunities outside of the firm. Notably, many attorneys return to the firm—more than 50 attorneys have returned to the firm since January 2012. These "re-ttorneys" bring valuable experiences back to the firm after stints in-house, within government, or elsewhere. But as some attorneys return, others launch. The firm's GO ("Global Opportunities") program offers firm lawyers the opportunity to work in a new city at one of the firm's other offices or temporarily for one of the firm's clients.
News & Awards
NOTABLE CASES
Prevailed at the U.S. Supreme Court in Obergefell v. Hodges, a historic victory that extended marriage to same-sex couples nationwide. 
Steered the largest-ever leveraged buyout in Asia, of Toshiba's memory chip business, valued at $18 billion.
In DirectTV's $16.7 billion spinout from AT&T, represented TPG in its $1.8 billion all-cash investment.
Guided Pfizer in four of its five largest M&A deals in the last six years, including its May 2022 $11.6 billion acquisition of Biohaven.
Sold Dunkin' Brands to Inspire in an $11.3 billion transaction, one of the largest restaurant deals in the last decade. 
AWARDS & ACCOLADES
"Kings of the Hill" – AmLaw – The Most Powerful, Profitable and Prestigious Firms of 2022
"A-List" – AmLaw – Ranked in the Top 5 of the "Best of the Best" Law Firms
"Top Midlevel Firms" – AmLaw – Ranked in the Top 10 for Associate Satisfaction
"A Top Firm for Private Equity and M&A by Deal Volume and Size" – MergerMarket - 2022
"Corporate Department of the Year" – AmLaw – Ranked for Excellence in Health Care - 2020
Why Work Here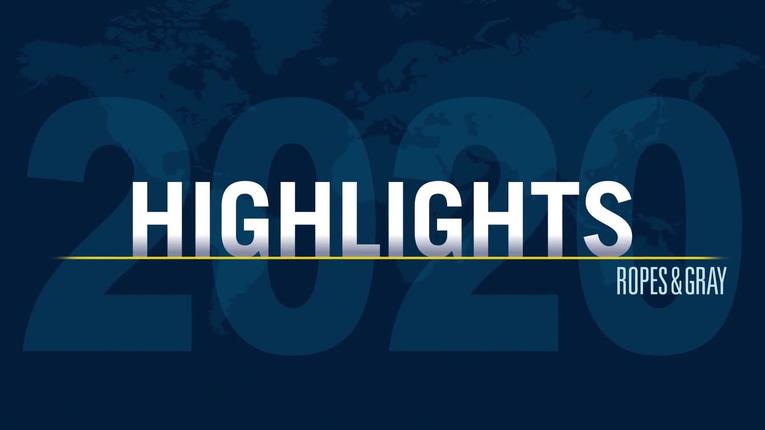 Ropes & Gray
Prudential Tower
800 Boylston Street
Boston, MA 02199-3600
Phone: (617) 951-7000

Firm Stats
Chairperson: Julie Jones
Managing Partner: David Djaha
Hiring Partner: Peter Erichsen
Total No. Attorneys (2022):
1K - 1.5K
No. of Partners Named 2021:
20
Billable-Hour Requirement:
1,900

Base Salary
Base Salary (2022) 1st year: $215,000 2nd year: $225,000 3rd year: $250,000 4th year: $295,000 5th year: $345,000 6th year: $370,000 7th year: $400,000 8th year: $415,000 9th year: $425,000 Summer Associate: $4,134.61/week

Employment Contact
Katie Calabrese
Director of Entry Level Recruiting
hiringprogram@ropesgray.com

No. of International Offices: 5
Major Office Locations
New York
Los Angeles
Chicago
Washington, DC
San Francisco
Boston
Palo Alto I London
Hong Kong
Seoul
Shanghai
Tokyo

Major Departments
Antitrust
Asset Management
Business Restructuring
Capital Markets
Data, Privacy & Cybersecurity
Finance
Health Care
Intellectual Property
Investigations
Life Sciences
Litigation & Enforcement
Mergers & Acquisitions
Private Equity
Real Estate Investments & Transactions
Securities & Public Companies
Tax & Benefits
*See firm website for complete list of practice areas and industries.